Monday, April 30, 2018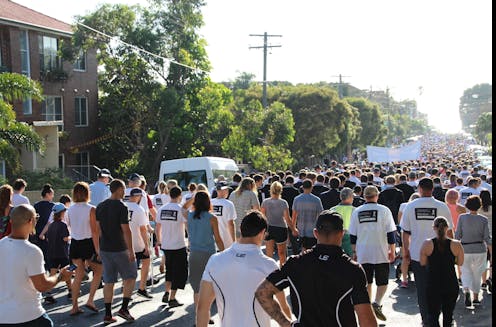 The website The Conversation recently published an article titled, "FactCheck: is domestic violence the leading preventable cause of death and illness for women aged 18 to 44?".
Overall the article is a decent explanation of the difference between burden of disease and risk factors. We hope it will serve to prevent false and misleading claims such as Tanya Plibersek's statement that "Domestic violence claims more Australian women under 45 than any other health risk, including cancer."
Unfortunately however the team at The Conversation appear to have gone out of their way to try and make it look like a statistic published on One in Three's website was (at least partially) inaccurate or incomplete, going so far as to take the claim out of context. It is also possible they may not have followed their own Fact Check process.
The Conversation's article also unfortunately contained two errors of fact, one of which has thankfully been corrected.
Lastly, while the article's finding that, "although intimate partner violence is not a leading cause of death, injury and illness among Australian women aged 18-44, it does appear to be a leading contributor" is technically correct, it is still incomplete and misleading. It is an advocacy statistic designed to amplify the risk intimate partner violence poses to the health and wellbeing of women, and is regularly misquoted by media and government alike (hence the need for the "Fact Check").
An equally correct and less misleading way of presenting the same data would be to say:
Intimate partner violence (physical and sexual violence plus emotional abuse) is not a leading cause of death, injury and illness among Australian women aged 18-44. As one of several known risk factors, it contributes 5.1% toward the burden of disease in Australian women aged 18-44. The vast majority of this burden of disease is anxiety and depression - death and injury contribute very little. Among all Australian women, intimate partner violence contributes an estimated 2.2% to the burden of disease. The leading cause of death for Australian women 15-44 years (2016) was intentional self-harm, with 368 deaths per annum, while there were 50 intimate partner homicides of women of all ages per year in 2012-14. The leading cause of injury for all Australian women was falls (51%), with assaults (of which intimate partner assault is a sub-category) making up 3.2%.
While well-intentioned, efforts to reduce family violence against women that use incomplete, incorrect or misleading statistics unfairly stigmatise men and boys as violent and abusive, while simultaneously denying or downplaying the existence of male victims of violence.
All victims of violence and abuse, whether male or female, deserve policies based upon up-to-date accurate data. Flawed data can only lead to flawed policies and actions, and many children continue to be exposed to violence because of these misinterpretations.
The One in Three Campaign is fully supportive of all genuine programs designed to protect women and children from violence. We are simply seeking similar protection for men and boys and asking that the vast majority who are not violent are no longer tarred with the brush of "violent males." You can read more at oneinthree.com.au/misinformation.
For purposes of transparency, the following is a complete email transcript of One in Three's correspondence with The Conversation, followed by a video clip outlining The Conversation's Fact Check methodology. Readers can decide for themselves whether The Conversation followed its own methodology when dealing with One in Three.